Buffalo Horn Chews
Rating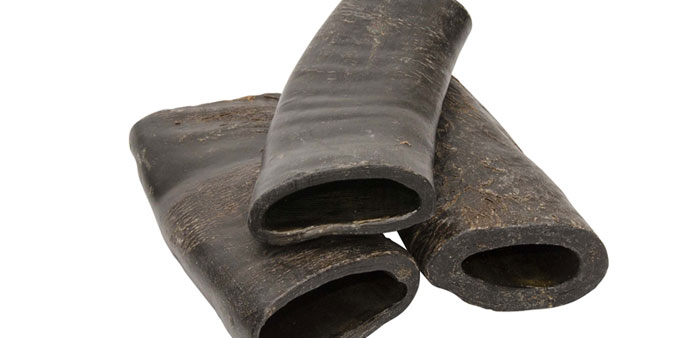 Buffalo Horn Chews
It always surprises me to see the newest dog chews on the market. I can still remember the excitement when the glorious bully stick hit the stores – healthy and takes a while to devour! (I know for some that is not the case!) I am always searching for a healthy, unprocessed alternative for my dog to keep busy. He is a very active mixed breed who needs a challenge to occupy his mind. In the past year, the industry of antlers and horns as natural dog chews has boomed into the pet industry. We always have a bully stick in the home, but I wanted to offer him something different and hardier. This is when I came home with the Water Buffalo horn.
You might think you are a hippie nomad by picking up such an odd and unusual chew for your dog. Believe it or not, there are many benefits to the horn! Depending on where you purchase these horns, you can be sure that they are grass-fed, free range quality. The horns are naturally low in fat and high in protein with a long lasting durable chew. From an owner's perspective, it is a great chew to occupy my dog, but just be careful not to trip over it in the dark! Ouch!
There are even more ways to enjoy this edible chew. You can pack it with frozen veggies and peanut butter and freeze it to provide an even longer lasting treat. The chewing that occurs will help to scrape off tartar build up and help cushion your wallet. (Dentals can be very expensive!) The only cautionary measures I would take would be to consider the proper size for your dog. He or she should not be able to stick it entirely in his or her mouth. This chewing is not productive and can even break teeth. (Again, expensive vet visit!) Also, be wary of your dog breaking pieces off. Although it does seem to break off in little bits, I am sure those strong chewers can get bigger pieces off. As for any chew, use with supervision until you are comfortable that your dog will not destroy it and possibly ingest anything harmful or sharp.
In the end, I am satisfied with the horn despite some issues of him breaking off small pieces that, although digestible, seemed a bit too sharp. The cost is ideal and the durability is fantastic!
Cost: $10-$15.00
Source: www.OnlyNaturalPet.com (I got mine from Petco, but I suggest going all-natural.)
Comments
Loading Conversation