Kurgo Reflect and Protect Active Dog Vest
rating: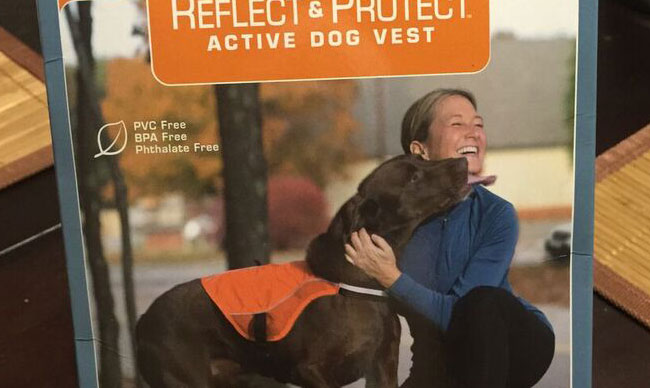 Kurgo Reflect and Protect Active Dog Vest

When you are walking your dog at night, it is important that both you and your pet are visible. This is useful for neighborhoods as well as hiking on the trails. For example, Beasley and I always dress in brighter colors while hiking different trail systems. This visibility is important in case there may be stray hunters or if we were to become lost or injured.
Today you can find all sorts of visibility gear for your dog. From leashes, collars, to leg bands and bandanas! If you want an affordable and lightweight visible vest for your dog, then I recommend the Kurgo Reflect and Protect Active Dog vest. This vest comes in various sizes and offers a unique LED strip of flashing light along the dog's back. The vest also has reflective strips along the front and sides of its orange color.

When I received this vest, I was a little upset that it wasn't a fluorescent orange, but more of a neutral orange color. This was paired with the fact that the vest is not very long to cover the lower back near Beasley's tail. However, its lightweight feature makes it an easy vest to wear in hot weather or over a warm blanket. The vest also gives multiple flashing strobe patterns with the click of a button near the nape of your dog's neck. It can provide a steady light, slow and fast flash, or completely off. The fit slips right over the head, over the back, and a strap with buckle around the barrel of your dog. This is adjustable with added elastic for durability.

In the end, my rating is based on my opinion that this product will most likely not withstand heavy rough play or traversing through thick woods. It can be torn from thorns or dog claws and does not seem to be waterproof. (Beasley rough played on the trails and it took a beating!) Also, from Beasley sniffing and reaching down, the LED light strip broke in several places and stopped working. However, you can remove the light strip and use the vest by itself with its reflective properties. This is a useful vest for light use, but I would get one size larger than the size guide suggests. You may be luckier than Beasley, but he wore this vest out!

Source: www.Kurgo.com
Comments
Loading Conversation