The Furminator
Rating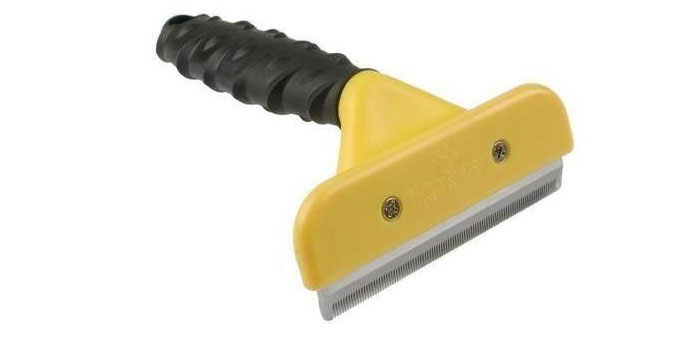 The Furminator
Everyone enjoys the arrival of spring weather. The cold, dreary winter transitions into blooming flowers, trees, and the warm spring air. Beasley enjoys the warmer weather, too! He loves to bask in the sun on the deck and takes in all of the fresh smells the new season has to offer. His thick golden coat turns into a sleek, lighter coat that just shines! Sounds wonderful, right? Well, let me be sure to not fool you. The transition from winter to spring is great news! However, it comes with a price for dog owners. That's shedding. Lots and LOTS of shedding!
Beasley can create tumbleweeds if he tried hard enough. I pet him and scratch him, but only to come up with a hand full of dog hair. Sometimes I cringe just wondering how much is in my carpet! Daily brushing felt endless, too. My husband would ask me, "Will this shedding ever stop?!" It was embarrassing for friends and family. "I'm so sorry that my dog just covered your perfect outfit in dog hair!" Finally, I went online and thought, "There has to be a better solution out there." And there was. I introduce to you, The Furminator.
It might sound like a '80s thriller, but I promise you that this is the most modern dog deshedding tool on the market! It comes in a variety of sizes to fit your dog. The technology it beholds is relative to finding a gold mine…it reaches down to the undercoat and pulls out that loose fur! Although it is a bit more expensive than your average dog grooming tool, I decided to bite the bullet and purchase one.
When it arrived, I was pleased at the official packaging with detailed instruction booklet and plastic casing. The tool is made of very durable plastic with a rubber handle and a strong metal teeth grid. I was excited to put it to work! With Beasley outside, I began gently running it through the thicker parts of his coat in hopes of removing the unwanted hair. With the ease of my hand, I was able to remove massive tumbleweeds of undercoat! In a cinch! I found myself simple brushing his coat with the reward of removing tons of dead and loose hair. When The Furminator was full of hair, a simple release button pushes the hair off and you can start over. This tool works…and fast! Within five minutes I felt I accomplished days of deshedding on Beasley.
The tool deserves the blue ribbon award for keeping relationships together. I can't express enough how much stress is averted from being able to deshed your dog in minutes. However, you do need to be careful to not use this product daily. I heard of a story where the dog went bald! With proper use, this tool should be in anyone's cabinet of dog goodies for their medium to long coated fur-babies. Its durability is on par which validates the cost and seems likes pennies in comparison to its performance.
Cost: $52.99
Source: furminator.com
Comments
Loading Conversation